A Front Group for the Psycho-Pharmaceutical Industrial Complex


Updated: January 11, 2007 6:11 PM EST
TeenScreen
is a very controversial so-called
"diagnostic psychiatric service&quot
, aka suicide survey; done on children who are then referred to psychiatric treatment. The evidence suggests that the objective of the psychiatrists who designed TeenScreen is to place children so selected on
psychotropic drugs
.
"It's just a way to put more people on prescription drugs," said Marcia Angell, a medical ethics lecturer at Harvard Medical School and author of "
The Truth About Drug Companies
." She said such programs will boost the sale of antidepressants even after the FDA in September ordered a "black box" label warning that the pills might spur suicidal thoughts or actions in minors. (The New York Post, December 5, 2004)
TeenScreen is based on the thoroughly discredited "
Diagnostic and Statistical Manual of Mental Disorders
".
Procedure on Young Children



Step One

TeenScreen lures kids as young as 9 years old into doing the suicide survey by offering them free movie passes, food coupons, "I completed TeenScreen" stress balls, pizza parties and candy bars - if they consent to the procedure.

One tactic TeenScreen officials use is to sell the child on the suicide survey first and after they have the child's agreement, they later contact parents.

TeenScreen Project Coordinator, Kathleen Cigich, was quoted as saying: "We found early on, though, that sending out letters directly to parents is prohibitively time consuming and gets a low response rate. We thought, why not go to students themselves and offer a $5 video store coupon to anyone who brings back a parental consent form within a two-day turnaround period. It works. Our response rate is extremely high."

TeenScreen also utilizes a "passive consent" form which requires no written parental approval. The passive consent form is sent home to parents and if they don't return it TeenScreen considers that the parents approve. TeenScreen officials favor passive consent because they say it boosts their chances of screening kids to 95% as opposed to the written parental consent technique. What if the child forgets to bring the consent form home? What happens if the parent is too busy to refuse in writing? They've consented in the eyes of TeenScreen personnel.

Step Two

The youngster is sat down and asked introverting questions such as:

Has there been a time when nothing was fun for you and you just weren't interested in anything?
Has there been a time when you felt you couldn't do anything well or that you weren't as good-looking or as smart as other people?
How often did your parents get annoyed or upset with you because of the way you were feeling or acting?
Have you often felt very nervous when you've had to do things in front of people?
Have you often worried a lot before you were going to play a sport or game or do some other activity?
Have you tried to kill yourself in the last year?
Are you still thinking of killing yourself?
Have you thought seriously about killing yourself?
Have you often thought about killing yourself??
Have you ever tried to kill yourself?
Step Three
Based on the answers the child gives to the above questions he is then shuffled off to a "clinician", who ponders the bogus label to use.
Social Phobia?
Panic Disorder?
Anxiety?
Obsessive Compulsive Disorder?
Active Suicide Ideation?
Passive Suicide Ideation?
You can find the checklist used to label the child here:
labeling checklist
IMPORTANT NOTE TO PARENTS:
Parents are being mislead by a multi billion-dollar a year child drugging industry that a diagnoses of "mental disorder" (ADHD, Bi-Polar, Social Anxiety Disorder) are medical diseases or illnesses. This is a fraud. No child has a brain scan, blood test, X-Ray or any evidence of physical abnormality to verify they are "ill" or "diseased."
Yet psychiatrists continue to pound the public with misleading and fraudulent statements that these so called mental disorders are biochemical or neurological conditions. That is false. They are simply a list of behaviors that psychiatrists vote into existence and insert into their billing bible, the Diagnostic and Statistical Manual of Mental Disorders.
This has led to over 8 million children in the U.S. taking mind-altering psychiatric drugs.
The Diagnostic and Statistical Manual for Mental Disorders, 4th Edition (DSM-IV), published by the American Psychiatric Association (APA), is psychiatry's billing bible of "disorders" from which psychiatric screening, diagnoses and their treatment are derived. The current edition lists 374 psychiatric conditions that have been identified as mental disorders.
Yet, the disorders contained in the DSM-IV are arrived at by consensus, not by scientific criteria. There are no blood tests, brain scans, X-Rays, MRIs or "chemical imbalance" tests that can scientifically validate any mental "disorder" as a disease or illness. Canadian psychologist Tana Dineen reports, "Unlike medical diagnoses that convey a probable cause, appropriate treatment and likely prognosis, the disorders listed in DSM-IV are terms arrived at through peer consensus"- literally, a vote by APA committee members.
Step Four
The "clinician" summarizes his report and comes up with an "impairment score".
Step Five
Based on how the child answered the "suicide survey", and which label the clinician conjured up and how the child did on his "impairment score" the child is then sent off for "treatment".
What treatment?

Drugs. A survey of recently trained child psychiatrists found the
treatment
for 9 out of 10 children consisted of drugging. (Journal of the American Academy of Child Adolescent Psychiatry 2002)
The "treatment" used on children with these bogus labels can be found here:
Medication Guidelines
"Treatment" is the long term goal for TeenScreen according to their director, Laurie Flynn.
What does the Food and Drug Administration say about these drugs? See here:
Black Box Warning

TeenScreen — no evidence of workability
TeenScreen officials admit that there have been no studies that show that their program reduces suicide. That is not surprising, because the U.S. Preventive Services Task Force report of May of 2004 states:

A. There is no evidence that screening for suicide risk reduces suicide attempts or mortality.

B. There is limited evidence on the accuracy of screening tools to identify suicide risk.

C. There is insufficient evidence that treatment of those at high risk reduces suicide attempts or mortality.

D. No studies were found that directly address the harms of screening and treatment for suicide risk.

TeenScreen has no proof that their survey reduces suicide rates. The co-director of TeenScreen Rob Caruano, says that suicides are so rare that you'd have to screen the whole country to see a difference in mortality between screened and unscreened students.

TeenScreen was established in Tulsa, Oklahoma in 1997 . According to a 2003 Tulsa World newspaper article, Mike Brose, executive director of the Mental Health Association in Tulsa, stated: "To the best of my knowledge, this is the highest number of youth suicides we've ever had during the school year -- a number we find very frightening."

Psychiatrists are even coming forth saying TeenScreen is unworkable. Nathaniel Lehrman says: "The claim by the director of the TeenScreen Program that her program would significantly reduce suicides is unsupported by the data. Indeed, such screenings would probably cause more harm than good. It is impossible, on cursory examination, or on the basis of the Program's brief written screening test, to detect suicidality or "mental illness," however we define it. "

So much for the workability of TeenScreen.

There is no Suicide Epidemic
Child Suicides are Rare

Certainly any parent suffers a heavy burden of grief over the loss of a child and our hearts go out to any family that suffers such a tragedy.
However, the fact is suicide amongst children is very rare. TeenScreen's sales pitch constantly stated is that "Suicide is the 3rd leading cause of death amongst children!" This is the tactic they use to gain sympathy from parents and school administrators and use this to create in the media, a suicide hysteria, when in fact child suicides are very rare. For instance in Florida, the number is 50 per year. Coincidentally, 50 is the same number of people who are struck by lightning each year in Florida. 50 out of close to 4 million children is not an epidemic.
Suicides are on the decline. Suicide among American youngsters and teens fell about 25 percent in the last decade. The suicide rate for ages 10 to 19 fell from 6.2 deaths per 100,000 people in 1992 to 4.6 per 100,000 in 2001, according to the
Center for Disease Control
. In 1991, 10 of 100,000 people in Florida ages 10-24 committed suicide. By 1999, that number had dropped to six out of 100,000.
Suicides generally have been on the decline since 1987. The rate of suicide for 19 years of age and younger is less now than in 1981, reaching their most recent highest peak in 1988.
The true story is that the majority of child suicides in Florida had been on psychotropic drugs or had already received psychiatric treatment, which is completely consistent with the recent flood of FDA and international warnings that these drugs can create suicidal ideation.
There is no epidemic of suicide in young people. The recent "suicide hysteria" is only the marketing strategy of the suicide "prevention" industry, ie the very controversial psychiatric based TeenScreen program.

Protection of Pupil Rights Amendment

The
PPRA
is intended to protect the rights of parents and students in two ways. It seeks to ensure that schools make psychological surveys such as TeenScreen available for inspection by parents and seeks to ensure that schools obtain written parental consent.
TeenScreen says
that if a local mental health screening program is approved by the Board of Education as part of the educational program, they are not required to get active parental consent under PPRA
The U.S. Department of Education says
TeenScreen's statement is not right and says the question of whether "active" consent is required under PPRA is not based on whether the program is part of the school's education program. Rather, PPRA requires schools to obtain prior written consent ("active") before a student is required to take a survey that is funded by the U.S. Department of Education (in whole or in part) and that asks questions such as the above questions TeenScreen poses to children.

The Visible Players

Origin of TeenScreen? A drug company paid psychiatrist!
David Shaffer

TeenScreen was developed by psychiatrist David Shaffer. Shaffer is a consultant (see page 21 of this Executive Summary report) and apologist of pharmaceutical companies. Shaffer has served as an expert witness for various drug companies and a consultant on various psychotropic drugs.

The American Foundation for Suicide Prevention sent out a press release on May 8, 2000, that said Shaffer was their president and they had just released a national survey they had done on suicide. The funder of the survey? A pharmaceutical company. Shaffer's American Foundation for Suicide Prevention has also received $1,250,000 from yet another drug company.

Shaffer attempted to block negative British findings
In December of 2003 British drug regulators recommended against the use of antidepressants in the treatment of depressed children under 18 because some of the drugs had been linked to suicidal thoughts and self-harm. According to a December 11, 2003, New York Times article, article, Shaffer tried to block the agencies effort to warn parents and protect children. The newspaper reports that Shaffer, at the request of a maker of psychotropic drugs, sent a letter to the British drug agency saying that there was insufficient data to restrict the use of the drugs in adolescents.

Shaffer on TeenScreen's False Positives
Shaffer says that TeenScreen "does identify a whole bunch of kids who aren't really suicidal, so you get a lot of false-positives. And that means if you're running a large program at a school, you're going to cripple the program because you're going to have too many kids you have to do something about."

When Shaffer was asked how he addresses people who question the dangers of prescribing to the false-positives, he says: "I think that standing by itself that criticism is meaningless because we don't know what harm the antidepressants do, if any, and we don't know who they do harm to".

Shaffer on the DSM (TeenScreen is based on the DSM)

Shaffer was one of the psychiatrists who had a hand in "developing" the thoroughly discredited DSM - Diagnostic and Statistical Manual of Mental Disorders (Psychiatry's Bible). In a
National Public Radio interview
, (August 18, 2003) Shaffer described the process:
"People (psychiatrists) would shout out their opinions from all sides of the room and whoever shouted loudest tended to be heard. My own impression, coming straight from England, was it was more like a tobacco auction than a sort of conference"

TeenScreen's Director: Laurie Flynn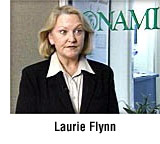 Laurie Flynn, TeenScreen's
director
, searches out teens who have committed suicide and then writes letters to the editors throughout the country, promoting TeenScreen as the "solution". Flynn is no stranger to the pharmaceutical industry. She formally served as the head of the National Alliance for the Mentally Ill which received
millions of dollars
from pharmaceutical companies. Flynn has a tough time selling TeenScreen. TeenScreen has resorted to luring kids with
movie rental coupons
and
food and drink coupons
, simply for the return of a release form, whether or not the student agrees to be screened.
Flynn
perjured
herself in a Capitol Hill Hearing on March 2, 2004, in front of the Senate Health, Education, Labor and Pensions Committee on Bill H.R. 3063, when she testified: "In partnership with the University of South Florida we are piloting district wide mental health screening of 9th graders in Hillsborough and Pinellas counties". But in fact, the day before Flynn's testimony, the Hillsborough County School District said they were not partnering with TeenScreen, did not feel comfortable with the information provided by TeenScreen and had serious concerns about TeenScreen including liability and risk issues. In Pinellas County, TeenScreen is prohibited from doing their suicide survey because Board policy protects the identity of students when surveys are done. In addition, the Pinellas County School Board Superintendent, Dr. Clayton Wilcox, has
serious reservations
about partnering with such an organization.
E-mails are public record in Florida if sent to a government agency. Here is one example of Flynn's
"confidential" e-mails
. She says she needs a horse to ride and she needs those kids screened!
Flynn should learn to just
say no to drugs
.

TeenScreen's Co-Director: Leslie McGuire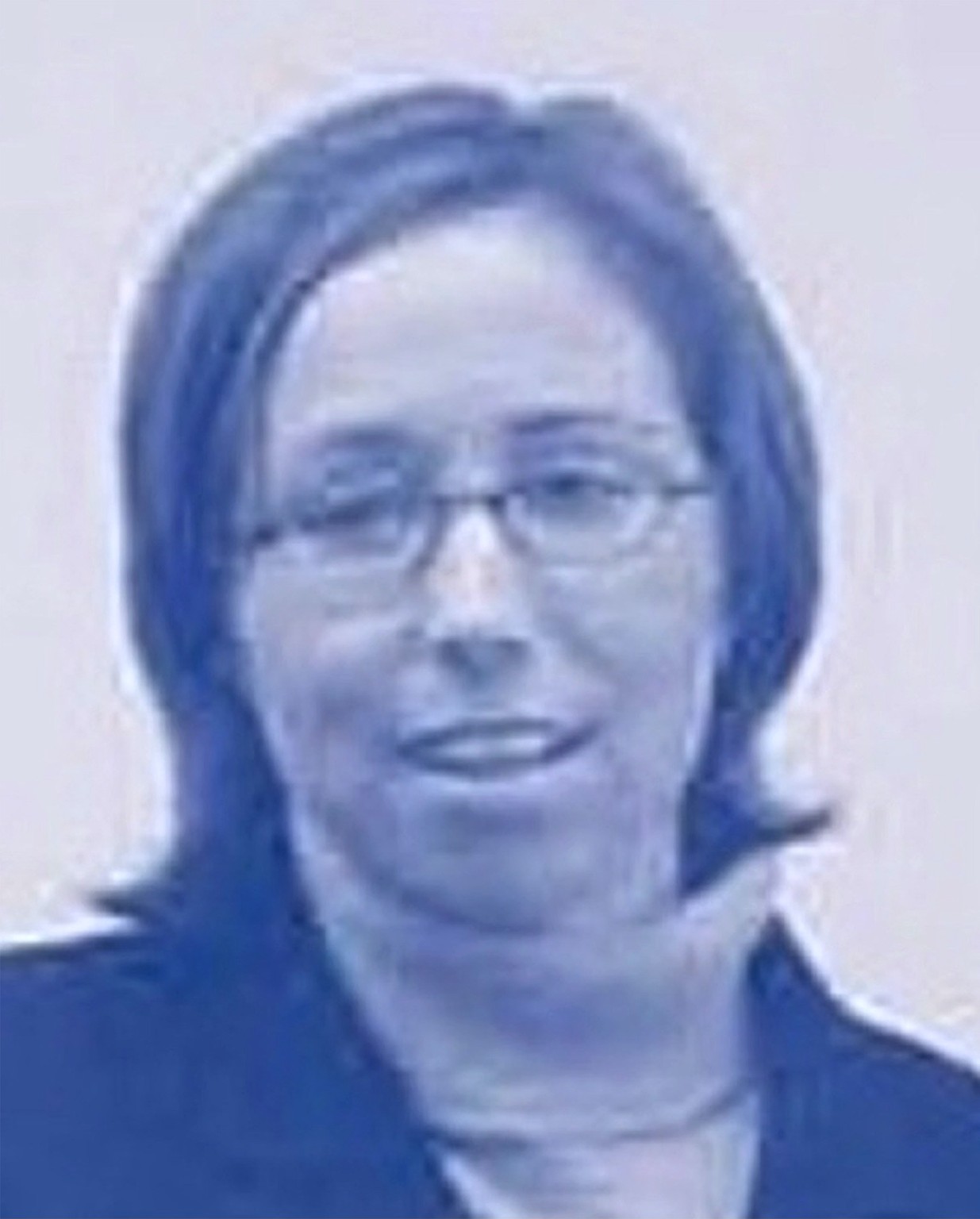 Mcguire's presentation at the national NAMI convention June 2005:

"Getting the kids to buy in is such an essential thing because for the most part, you're distributing the consent forms to the kids to bring home to their parents and bring them back. So you have to get their buy in, you have to get them interested in it." When asked about "incentives", McGuire replied: "Hollywood Video coupons, you get that regardless. Even if the form says no, you still get the reward."

"I've been talking a bit about this campaign of mis-information that's going on. And we do need your help, so what I'm going to do is I'm going to pass around a blank notebook here. And if anyone in this room would be willing to be contacted if umm there if, if there was a sort of a uprising against screening in your community we have lots of people throughout the country who - ya' know - there might already be screening going on in your community, we may ask you to write a letter to the editor in support of screening. We could possibly ask you to go to a school board meeting, umm something like that. Obviously this would be your choice, but, we are starting to create really a response network and an e-mail list sorta' kinda thing, to keep people in the loop on this, ummm, so I'll pass it around and if you're interested please sign up."


Pharmaceutical Industry Front Group
TeenScreen refuses to divulge the source of their funding. Their website says they are funded by private family foundations, corporations and individuals without naming them. One corner of the Internet did give a clue to their funding: A large pharmaceutical company funded the TeenScreen program in Tennessee. (See page 4, left, mid-page).

According to their 10 year strategy, TeenScreen wants to make the suicide survey available to all American children. Their long term goal is psychiatric "treatment" of our children.

Since 1991, the Division of Child and Adolescent Psychiatry has invested nearly $19 million in the "research" and development of the TeenScreen program. Who will reap the returns?

TeenScreen says that 24% of the kids that are referred after screening are drugged. That percentage may be much higher.

No wonder drug companies are tripping over themselves wanting to sponsor Screening.

In Colorado over 350 youths were suicide screened using TeenScreen's survey. They found that over 50% were at risk of suicide and 71% screened positive for psychiatric disorders at a youth homeless shelter. That's not science! That's a dream come true for pharmaceutical company marketing types and bean counters.
SETTING THE RECORD STRAIGHT

1. Does the TeenScreen Program endorse mental health screening for all teens?
The goal of TeenScreen is to screen every child in the United States by the time they're out of high school. According to TeenScreen's Director, Laurie Flynn, their long term goal is "treatment" for "those in need."

2. Does TeenScreen recommend treatment?
TeenScreen materials say they make no treatment recommendations. However, let's pose this question: If you have a child who's been asked a battery of potentially upsetting questions, has been labeled with a bogus "mental disorder", has been assigned a certain "impairment score" and then referred to a psychiatrist, what do you think the treatment will be? When TeenScreen says they do not recommend treatment it's like the gallows builder saying he didn't hang that man!

3. Is TeenScreen free?
TeenScreen's promotional materials claim their suicide survey is free. Gwen Luney, assistant superintendent for supportive services and federal programs at Hillsborough County (Florida) Schools, says TeenScreen would cost the school district roughly $200,000 a year -- $200K they don't have. "We're hesitant to commit to a new program if there's a strong possibility we'll be seeing some [money] shortfalls. Also, are we going to find a place for this [diagnosed] child to go? If so, what if the child doesn't have insurance? Who picks up the cost? Does it get passed on to the county? It can't be passed on to the school district. And the liability factor is greater now that you've identified [the at-risk student]."

Even at a very small high school like Brimfield High School, in the Peoria, Illinois area, the cost is not cheap. According to a Peoria Journal Star article dated July 11, 2004 "organizing the system and employing a part-time counselor specifically for the program is estimated to cost about $100 per student... The Brimfield High School program alone will cost around $20,000 for the first semester."

4. Where are all the schools that use TeenScreen?
It's all a big secret. According to TeenScreen's director Leslie McGuire, they are fearful there will be an uprising against mental health screening, therefore TeenScreen refuses to divulge their locations. They use a canned e-mail message: "We get a lot of requests from people who are interested in locating and speaking directly with local TeenScreen sites and this can become a burden on them. We are not authorized to give out our sites contact information unless we have requested their permission to do so."

Due to TeenScreen's secrecy and the fact that parents have the right to know if their school has TeenScreen, a search is being conducted nationwide for schools with TeenScreen. A new website exposes the discovered TeenScreen Locations.

5. What is "passive consent"? What does this really mean?
Passive Consent is way to get around written parental consent and an effective method to get more children screened. Passive consent requires parents to return a form only if they do not want their child to participate in the screening.

According to an e-mail sent by a school official concerning implementation of TeenSceen, "The interest would be to screen as many as possible, beginning in 9th grade. The Passive acceptance style was mostly discussed to increase the numbers from 50% for Consent to near 95% for Passive"

This means if a parent does not open the mail or was too busy to study the form and return it or if a child as young as 9 years old loses the form on the way home, then TeenScreen will accept that as "parental consent".

A federal law known as the Protection of Pupil Rights Act, requires written parental consent before a child undergoes a survey, analysis or evaluation. A TeenScreen newsletter discusses making screening a matter of the schools curriculum as a method to bypass this law and use passive consent instead.

According to Leslie McGuire, TeenScreen's director, 25% of their programs use passive consent.

Passive consent is controversial and has already upset parents. Teresa Rhoades is one parent who found out about "passive consent" but only after it was too late.

Has your child received a mental health screening without your written permission? Contact us.

Note: Bowing to mounting national criticism by parents, the media and legislators, Leslie McGuire of TeenScreen announced that: "Effective August 1, 2006, all school-based sites will be required to obtain written ("active") consent from the parents or legal guardians of minor students... For some sites, the updated policy and forms will be a departure from the way in which they currently operate, but I want to assure you that we did not make this decision lightly and that we will be available to help make this a straightforward transition for you and your staff."

Notice Leslie says "school based sites". What about the TeenScreen sites in homeless shelters and juvenile detention centers?

Will independent schools comply with TeenScreen Headquarter's orders? This remains to been seen.

6. Are student records confidential?
No. TeenScreen officials require that all screening results be shared with them. TeenScreen says that various personnel such as school officials, various organizations conducting certain studies and other "appropriate officials" may be privy to student records and that "Screening personnel should determine with the school officials whether or not they are permitted access to student records without the formal consent of parents".

7. Does talking about suicide encourage teens to attempt suicide?
According to the U.S. Preventive Services Task Force report of May of 2004, no studies were found that directly address the harms of screening and treatment for suicide risk.

8. Is the pharmaceutical industry behind TeenScreen?
Absolutely. Their national advisory council is full of major pharmaceutical company connections.

9. How prevalent is suicide in teens?
It's very rare. For example the number is 50 per year out of over 3.5 million students in the State of Florida. Coincidentally, the number 50 is the same number of people who get hit by lightning in Florida each year.

10. Do children screened using the TeenScreen suicide survey wind up on dangerous antidepressants?
Absolutely. 9 out of 10 children referred to psychiatrists are prescribed psychotropic drugs.

11. What can I do?
E-mail your school district superintendent and ask if TeenScreen has been implemented or if there are any plans to implement it. Keep things in writing. If the answer is yes, alert other parents and voice your opposition. Let us know what you find out and what you are doing about it. File a "parental informed consent notice" with your child's school. Click here for a sample.

Researcher Ken Kramer
records@psychsearch.net
Stop TeenScreen's Unscientific and Experimental "Mental Health Screening" of American School Children. Sign this
Petition