PsychSearch.net
Psychiatrists' Obsession with Sex
By Colin Taufer
June 2017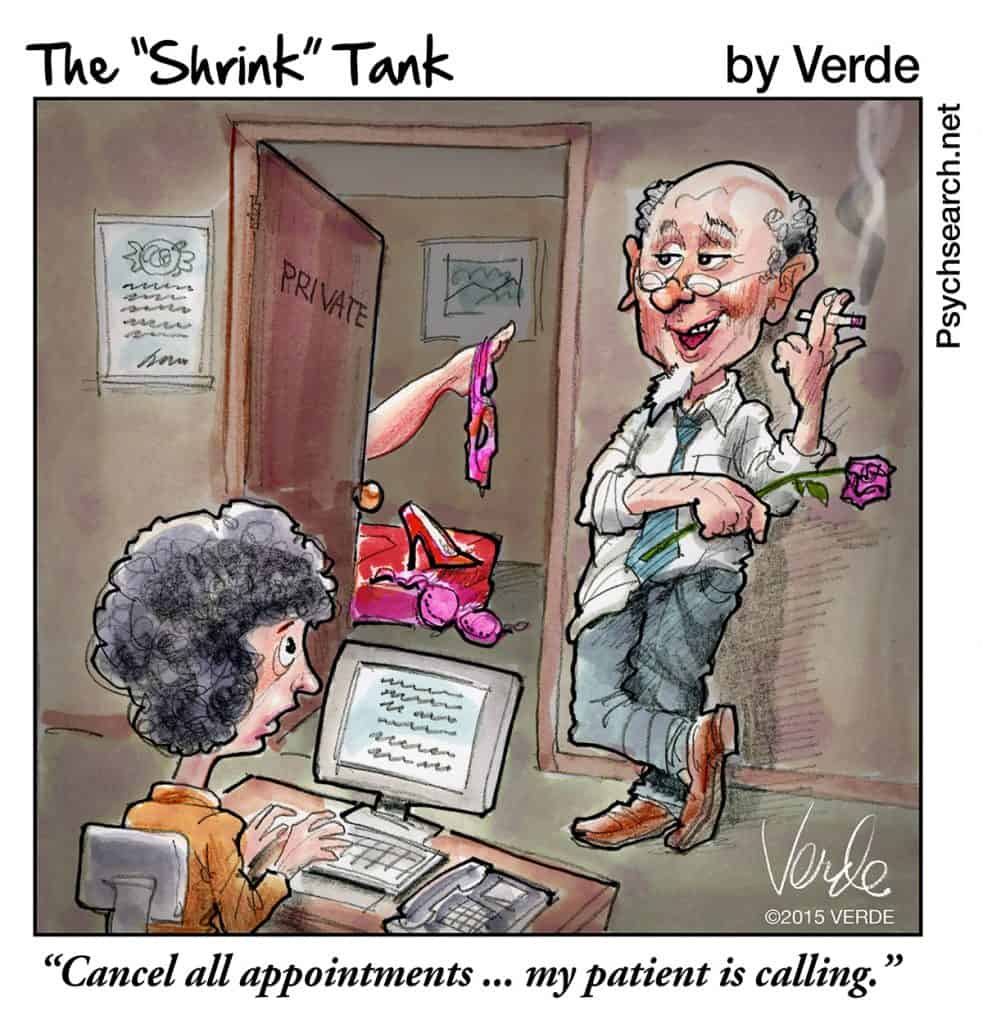 The "World's Sexiest Psychiatrist" is not a punchline to a crude joke or the caption on a humorous cartoon. No. The World's Sexiest Psychiatrist is the tragically accurate and infamous nickname of New Jersey psychiatrist Theodore F. Jasper, who, recently had his licence revoked for four years.
Here's another nickname for Jasper, from someone unfortunate enough to have crossed paths with him: Terrible Human Being.
"Jasper is a liar!" his victim told PsychSearch. "He said I made up the story about our sexual relationship to his wife. Then he turned around and admitted it to the medical board. He is a terrible human being! He's no longer a doctor anymore and thank God for that. He will always be a liar, cheating husband and fake person but at least he can no longer harm anyone anymore for now."
This is not an isolated incident. Jasper is one of many, many criminal psychiatrists featured on the Psychsearch website. In fact, getting into legal trouble for sexual misconduct is so prevalent with psychiatrists, Psychsearch has dedicated an entire section of its site solely to this one topic. Just in the last few weeks, a number of psychiatrists have gotten themselves into trouble for possession of child porn, having a sexual relationship with a patient, sexual assault of a boy, molestation, sexual assault of men, and sexual conduct with a patient, and the list goes on. Abusive, psychotic, delusional and antisocial are how this study describes such psychiatric sexual deviants.
Since the beginning, sex and sexual pain have been a recurring fascination with psychiatrists: the focus of Freud on sexual desire, the use of lobotomies to "cure" homosexuality, psychosurgeries to kill overactive libidos, medication to control sex offenders and castration to subdue rebellious youth. There is even a manual on "Love Treatment", advocating for therapists having sex with their patients.
By its own admission, psychiatry as a profession has a serious problem with sexual misconduct. Despite widespread efforts to prevent sexual violations with patients, such misconduct is more likely to occur with psychiatrists than any other specialist. Similarly, a study by the California Medical Board found that psychiatrists were significantly more likely than non-psychiatrists to be disciplined for sexual relations with patients.
Dr. Al Parides, Professor of Psychiatry at UCLA said it best, "If you are saying that psychiatry promotes a certain form of morality that is a deviant morality in regard to many areas including sexual behavior – yes, I would agree."
In a decent society the rapist is regarded with contempt and disgust. If an entire profession cannot control itself and allows its members to continually destroy the lives of others through acts of sexual abuse, that entire profession must be regarded with the utmost contempt and disgust.
If you, or someone you know, is a victim of psychiatric sexual or other abuse, file a complaint at PsychSearch.net. The state will only investigate if they have a complaint against the psychiatrist.
Colin Taufer
+++

COLIN'S COLUMN
Welcome to my monthly column. I am a career educator, writer and lifelong advocate for human rights. With each article, I hope to shine a light into the dark world of psychiatry to make stronger champions of human rights, to stir into action, to enlighten. As always, I appreciate feedback from readers. I can be reached at Colin@PsychSearch.net