PsychSearch.net
2018 Godspeed to All
By Colin Taufer
January 2018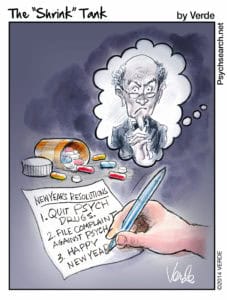 Happy New Year!
The calendar has turned from 2017 to 2018 and a new year is upon us. As is customary, this is the time to wish good fortune to friends new and old and to those most important to you. In keeping with this tradition, here's to a very successful 2018…
To the Citizens Commission on Human Rights, the global watchdog committed to investigating and exposing human rights violations in the field of mental health.
To the lasting legacy of the late Dr. Thomas Szasz whose strong intellectual criticisms of psychiatry inspired the antipsychiatry movement worldwide.
To Robert Whitaker who publishes the Mad in America website. Its mission is to serve as a catalyst for rethinking psychiatric care in the United States and abroad.
To US Senator Chuck Grassley who continues to bring the fight to psychiatry and Big Pharma.
To attorney David Karen who, in 2017, filed a class action lawsuit in federal court against the manufacturers of electroshock "therapy" devices on behalf of every person who has been injured by ECT in California since 1982.
To Peter R. Breggin, MD who is a Harvard-trained psychiatrist who has been called "The Conscience of Psychiatry" for his many decades of successful efforts to reform the mental health field. In 2017 I interviewed Dr. Breggin for an article. He was both professional and helpful.
To the Bonkers Institute website whose mission is "to expose fraudulent medical pseudoscience wherever it is found, and nowhere is fraud more prevalent than in the branch known as psychiatry. We march into the field of battle with a powerful weapon: our sense of humor."
Finally, to all the readers who have taken the time to respond to my articles. Your feedback is helpful, heartfelt and inspiring. Like Brian S. from New Brunswick, Canada, a former psychiatric patient now representing himself in court in his lawsuit against his psychiatrist for abuse. Like Jeff S. from Oregon who spent thirteen years in psychiatric hell before deciding enough was enough and willed himself off the psych drugs and is now moving forward and working to lead a good life. Like Julie G. who shared with me her experiences with electroshock therapy and now uses her experiences to warn others about the horrors of psychiatry.
Thank you and Godspeed to all.
Colin
COLIN'S COLUMN
Welcome to my monthly column. I am a career educator, writer and lifelong advocate for human rights. With each article, I hope to shine a light into the dark world of psychiatry to make stronger champions of human rights, to stir into action, to enlighten. As always, I appreciate feedback from readers. I can be reached at Colin@PsychSearch.net.
+++
File a complaint against a psychiatrist – PsychSearch
www.psychsearch.net/complaints