PsychSearch.net
Psych Drugs Kill More Than Heroin
By Colin Taufer
February 2018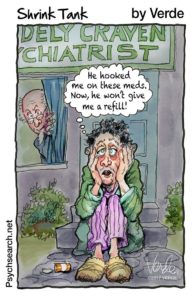 Every day, politicians, the press, and the president condemn the heroin epidemic currently ravaging the country. They talk about its toll in lives lost and communities ruined. They appropriate millions for prevention, treatment recovery, and drug education. They declare it a public health emergency and proclaim their commitment to fight the scourge with the Prescription Opioid and Heroin Epidemic Awareness Week every September.
Yet as bad as the curse of heroin is in this country, there is a much worse plague. Psychiatrists kill more Americans than heroin dealers.
When he met with adversity, Marine Corps veteran Jason Simcakoski was trained to overpower challenges with the perseverance to win battles. But there was one opponent Corporal Simcakoski could not overcome: psychiatrist David Houlihan.
On August 28, 2014, Houlihan added suboxone to Simcakoski's already crippling cocktail of 14 (fourteen!) prescribed drugs which included antipsychotics, tranquilizers, muscle relaxants and the opioid painkiller tramadol. Simcakoski was so sedated he could barely speak. Two days later, he died from "mixed drug toxicity" leaving behind a widow and young child.
Houlihan, as readers of PsychSearch know, is the psychiatrist known as the "Candy Man", he gave out drugs like candy. He earned this nickname as the chief of staff at the U.S. Department of Veterans Affairs medical center in Wisconsin where he quintupled the number of opiate prescriptions under his watch. (Prior to his work at Veterans Affairs, Houlihan was disciplined by the Iowa Board of Medicine for being "inappropriately engaged in a social relationship with a patient".)
This is not an isolated, headline-grabbing incident of one rotten psychiatrist extinguishing a life and destroying a family with deadly psych drugs. In 2014, 10,574 people died of heroin overdose while 15,778 people died from psychiatric drugs, nearly 50% more.
The villain of this epidemic is not the shady dope dealer in a dark alley, or South American drug cartels, but the psych drug pusher writing prescriptions that poison the brain and kill.
Colin
COLIN'S COLUMN
Welcome to my monthly column. I am a career educator, writer and lifelong advocate for human rights. With each article, I hope to shine a light into the dark world of psychiatry to make stronger champions of human rights, to stir into action, to enlighten. As always, I appreciate feedback from readers. I can be reached at Colin@PsychSearch.net.
+++
File a complaint against a psychiatrist – PsychSearch
www.psychsearch.net/complaints