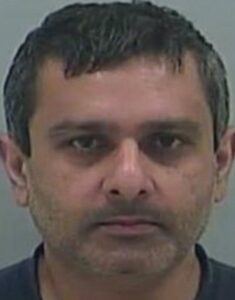 Ali Salim
The Columbus Dispatch
Doctor sentenced to 36 years for killing pregnant woman
By Laura Arenschield
December 20, 2013
— Excerpt
DELAWARE, Ohio — A doctor who admitted to killing a pregnant woman and her unborn daughter in the summer of 2012 was sentenced today to serve 36 years and 4 months in prison.
Ali Salim, 44, pleaded guilty in October to killing 23-year-old Deanna Ballman after she answered a Craigslist ad he'd placed for a prostitute. Ballman was nine months pregnant at the time of her death. Her unborn daughter, whom she'd planned to name Mabel, also was killed.
Delaware County Common Pleas Court Judge W. Duncan Whitney sentenced Salim to eight months less than the maximum possible sentence.
Salim had pleaded guilty to reduced charges of involuntary manslaughter in the deaths of Ballman and her daughter. He also pleaded guilty to tampering with evidence and abusing Ballman's corpse. He had entered an Alford plea to the charges that he raped Ballman, which allowed him to maintain his innocence while acknowledging that he likely would be convicted if the case went to trial. It carries the same weight as a guilty plea…
Until his arrest, Salim was an emergency-department psychiatrist at Knox Community Hospital in Mount Vernon. The State Medical Board suspended his medical license in April. Salim is not a U.S. citizen, and could be deported to his native Pakistan after he is released from prison…