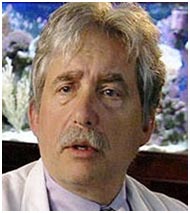 Pharmalot
By Ed Silverman
In August, the Georgia Psychiatric Physicians Association will hold a three-day continuing medical education meeting at the Ponte Vedra Inn & Club in Florida, where the discussions will focus on issues surrounding bipolar disorder and obsessive compulsive disorder, among other things.
One of the featured speakers will be Charles Nemeroff, the recently hired psychiatry chair at the University of Miami medical school, who also has become a sort of poster child for the controversy over undisclosed financial conflicts among academic researchers who accept federal grants while also doing work for drugmakers. In Nemeroff's case, his infractions occurred while he worked at as a professor at Emory University in Atlanta.
Interestingly, his bio for the upcoming event is as skimpy as can be – no honors or awards, no mention of select published papers, nothing about his education, and nothing about his previous employment (his tenure at Emory, by the way, is buried in his University of Miami bio. Apparently, Nemeroff is already so well known that no introduction is needed. Whether he will have any conflicts to disclose when he makes his presentations remains to be seen.