Maitland Mercury
Former Green Hills psychiatrist disqualified over affair with patient
By Meg Francis
August 14, 2019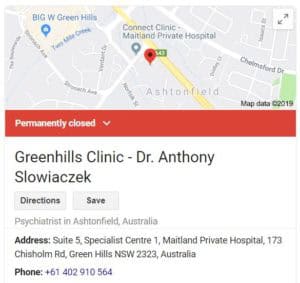 A former Green Hills psychiatrist has been found guilty of professional misconduct, and disqualified after engaging in sexual relationship with a "vulnerable female" patient.
NSW Civil and Administrative Tribunal found Anthony Slowiaczek guilty of professional misconduct for the "improper and sexual relation" with a female patient, identified as Patient A, between 2012 and 2016.
Dr Slowiaczek was a specialist psychiatrist practising at the Maitland Specialist Centre, attached to the Maitland Private Hospital.
Patient A had a history of childhood sexual abuse and sexual exploitation and had been previously diagnosed as suffering from Attention Deficit Hyperactivity Disorder, Post-traumatic Stress Disorder and depression.
There were also four other complaints which alleged Dr Slowiaczek inappropriately prescribed Patient A a drug of addiction; inappropriately prescribed medication to a friend and close family member; failed to maintain adequate medical records and suffers from an impairment.
The panel reviewed 78 pieces of evidence during the tribunal, which was held in April, including a number of emails between Dr Slowiaczek and Patient A, diary entries and photographs.
On September 3, 2012 in an email, Dr Slowiaczek stated: "…you are also a wise and beautiful woman with a heart as deep as mine and I would love to share my life with you and I will wait for you until the time is right to do that".
Dr Slowiaczek admitted all the complaints.
In a decision, handed down on June 25, the tribunal determined all the complaints were proven.
Dr Slowiaczek was disqualified to practise as a medical practitioner or provide medical services until September 30, 2023.
Previously, Dr Slowiaczek surrendered his registration as a medical practitioner in September 2018.