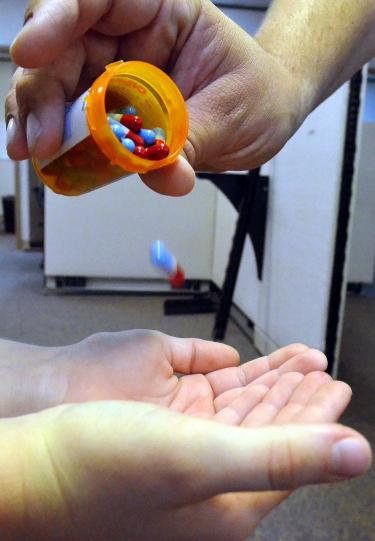 Are some foster kids over-medicated?
NC now looking to scrutinize how Medicaid dispensed to children
North Carolina now has a program that will allow it to monitor children on Medicaid who are prescribed antipsychotic and other mood-altering medications. A+Kids was implemented after doctors and those in the mental health field started questioning whether the medications were being over prescribed.
Hickory Daily Record
By: Sharon McBrayer
January 22, 2012
In the grocery store, a child goes through the produce isle picking up items and biting into them. When mom tries to stop him, he takes a bite out of her. Meanwhile, the child has managed to get the attention of shoppers and workers alike.
Mom is used to dealing with the behavior and outbursts but a doctor recently recommended putting the boy on medication.
The medication is an antipsychotic meant to control the boy's outbursts and symptoms of his disorder.
The child, who is a Medicaid recipient and in foster care, has the state looking out for him.
Child Medicaid recipients who are prescribed powerful antipsychotics now have the state looking over the shoulders of their doctors.
Last year, the state rolled out a web-based program called A+Kids (Antipsychotics — Keep It Documented for Safety) that will help it document the antipsychotics being prescribed to children under 18 years old.
According to information from the state, more than 20,000 children on Medicaid were prescribed antipsychotics in 2010.
Heavily medicated
Children being medicated with antipsychotic and other mood-altering medications have been in the news in recent months. Many of those reports have highlighted the number of those prescribed the medications who are in foster care as opposed to those also on Medicaid not in the foster system.
That's because of a report from the US Government Accountability Office released at the end of last year that found foster children, some younger than a year old, in five states studied "were prescribed psychotropic drugs at higher rates than nonfoster children in Medicaid during 2008." The five states were Florida, Massachusetts, Michigan, Oregon and Texas.
The report goes on to say sometimes the doses exceeded FDA maximum levels.
Dr. Randall Best, chief medical officer for North Carolina Department of Health and Human Services Division of Medical Assistance, said nationwide, 4 percent of child Medicaid patients are prescribed these medications compared to 1 percent of children with private health insurance. The number of foster children prescribed the medications is even higher, he said.
Why are so many kids being prescribed antipsychotics is a question that's arisen, Best said. The medications being prescribed to children are not unique to North Carolina, he said. There's been a big increase in antipsychotics being prescribed to children in recent years.
Generally, studies for medications are done on adults and are approved through those studies. Off-label medications also are commonly prescribed to adults.
These medications are very powerful drugs and have serious indications. Children need to be monitored because the medications can cause significant problems, including endocrine issues such as rapid weight gain and diabetes. The medications also can cause things such as tremors and other neurological problems, Best said.
He said while it may be easier to diagnose mental health illnesses in adults, that is not the case for children. He said many of the drugs are used in kids for behavioral problems.
Best said A+Kids is meant to make sure the medications are used appropriately and side effects are monitored.
Lisa Weeks, North Carolina Department of Health and Human Services Division of Medical Assistance's pharmacy chief, said the web-based program is a way for the state to gather data and provide education on things such as side effects, appropriate dosing and parameters doctors should monitor for when prescribing them. Weeks said it does require the physician to enter data.
But it is not a system that requires prior authorization before the medication is prescribed, Weeks said.
"This is not a denial process," Best said.
Catawba County's children
Best said while the higher rates of antipsychotics being prescribed to children on Medicaid don't mean the medications are being prescribed inappropriately. It could, in part, be due to the traumatic experiences and mental health issues of those in foster care, he said. One concern is prescribing the medications could indicate potential health risks, according to the report from the accountability office.
States set their own guidelines, the report says.
Catawba County Department of Social Services Director John Eller said as of Nov. 1, there were 14,984 children 18 years and under receiving Medicaid.
Eller said 187 children in foster care in the county. Of those, 71 are 0-5 years of age; 54 are 6-11 years of age; 60 are 12-17 years of age; and 2 are 18 years or older.
Of the 187, 32 are prescribed some type of medication for emotional distress or emotional disturbance, Eller said. Twenty-eight of the 32 are 12 years old or older and four are between 5 and 11 years old, he said.
Eller said, "Many foster children have experienced traumatic events, such as severe neglect, physical abuse, sexual abuse or family violence, and may exhibit depression and post-traumatic stress symptoms. Older youth, who have often experienced years of family instability and neglect, may exhibit behavioral disorders."
Eller further said, "A smaller group of children in care require placement in treatment centers, including psychiatric centers or hospitals. Several children have autistic behaviors or Asperger's Disorder, mood disorders, sexual behaviors, depressive disorders and disabilities that complicate their treatment."
On the front lines
Sherbia Jones never really intended to become a foster parent. It just sort of happened. Jones served on the social services board of directors from 1995 to 2001.
Jones was a foster parent to seven children over the course of 13 years and dealt with all types of personalities and issues. If she had it to do over again, she would foster more, Jones said.
One child she fostered came to live in the family home when he was 4 years old. He already had spent time in a hospital for anger issues and was being medicated.
Jones said she started working with him and was able to get him off the medicine. While she admits the boy was a handful, she didn't think he needed to be on medication. She worked with social services and he received counseling to wean him off the medicine.
While some children need medication for their mental health and emotional issues, Jones said her personal belief is that some children just need more attention and care.
"I think we need to have more counseling than pills," Jones said.
That also would mean more one-on-one time from the child's teachers and cooperation of schools, Jones believes. She said foster children may be angry due to their background and problems with which they've had to deal.
Jones said she really would like to see pills used as a last resort.
Dr. David Branyon is a child psychiatrist at Catawba Valley Psychiatric Services who has prescribed antipsychotic medicines to children and served on the board that helped develop A+Kids.
While some children as young as 1 or less have been prescribed antipsychotics, Branyon has never prescribed the medications for anyone younger than 3. And that type of medicine is prescribed by him only after a series of psychosocial — such as special classes — and milder medicines have been tried.
There has been a lot of controversy surrounding prescribing antipsychotics to children due to the side affects. Branyon said children on the medications are at risk for associated side affects such as neurological disorders, affects on the central nervous system, weight gain and the potential to develop diabetes and other metabolic problems.
For instance, a child who has been diagnosed with autism typically becomes inconsolable and frantic with minor changes in life or bites, Branyon said.
While the stronger drugs are a last resort for him, it's nice to have them available, he said.
Branyon uses A+Kids and said it's a little inconvenient but the frequency of use of the powerful medicines is so rare that it doesn't interfere with his practice.
A+Kids was developed after pediatricians and those in the mental health field started questioning whether the medications were being over prescribed. Medical reports have identified severe side effects, including tremors and stiffness.
Branyon served on the NC Council on Child and Adolescent Psychiatry, which helped develop A+Kids. He said some on the board felt there was sufficient misuse of the powerful medications and wanted to make sure the medicines are being appropriately prescribed. Having the program can make a physician think about why they are using an antipsychotic on a child.
Branyon said there are not enough physicians who have the expertise when it comes to children and antipsychotics and mood-altering drugs. He said family doctors often have to reach beyond their comfort zone and prescribe the medications.
In addition to the child psychiatrist at Broughton Hospital in Morganton, there are only three child psychichatrist in the Greater Hickory Metro area, Branyon said.
Monitoring children and cost
Brad Deen, a spokesman for the North Carolina Department of Health and Human Services, said the state is trying to strike a balance with A+Kids and that it is a collaborative effort with doctors.
The amount of antipsychotics being prescribed in the state is tens of millions of dollars. The 20,000 children prescribed antipsychotics in North Carolina in 2010 cost the state more than $40 million.
The state estimates it can shave $30 million from its Medicaid budgets over the next five years by using the program.
Deen said the state may see a cost savings in the future by using A+Kids but the cost savings is secondary. He said the program is about trying to find what works best.
That is something that will take a while for the state and doctors to figure out.
Best said the ultimate answers on how best to treat these children may not be known for some time.
The issue of prescribing children antipsychotics is something that's not unique to North Carolina but data on the effect the medications have on them hasn't been captured, Deen said. The hope is that the program will help capture data for North Carolina.
Weeks said doctors have been using A+Kids since April. It's too soon to make any determinations about the data collected so far, she said.