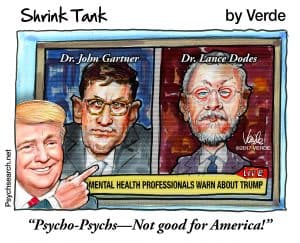 PsychSearch.net
Trump and Psychiatric Diagnosis from Afar
By Colin Taufer
October 2017
When psychiatrists make a claim in which they cite their "ethical responsibility" as justification for doing so, it is both absurd and laughable. Psychiatrists cannot and should not be trusted.
Such was the case in April of this year when a group of psychiatrists proclaimed, "We have an ethical responsibility to warn the public about Donald Trump's dangerous mental illness."
Visit the homepage of PsychSearch any day of the week and you will find a fresh assortment of mugshots of psychiatrists in trouble with the law for sex crimes, drug abuse, or fraud – often all three at once. Then there's the never-ending stream of complaints against psychiatrists filed to government agencies through PsychSearch. They arrive by the boatload every week. All of this comes as no surprise when you realize the "science" of psychiatry is built on the lie of the "chemical imbalance of the brain."
They can't even be trusted to follow their own rules.
The American Psychiatric Association is very clear on what it considers professional conduct from its members: "On occasion psychiatrists are asked for an opinion about an individual who is in the light of public attention…it is unethical for a psychiatrist to offer a professional opinion unless he or she has conducted an examination and has been granted proper authorization for such a statement." This is known as the Goldwater Rule because the last major political figure to be smeared by psychiatry in such a way was 1964 Presidential candidate Barry Goldwater.
Psychiatrists' political motivations for making such a decree are clear. They have distinct political leanings to the left. Or, as the New York Times put it, "Your Surgeon is Probably a Republican, Your Psychiatrist a Democrat." Like Trump, Goldwater was also a Republican.
But never mind their political intrigues. It is their more fundamental beliefs we should view with disdain and eliminate from society. Any group can make a statement maligning a public figure. But when that character assassination comes from group full of professional sex perverts, drug pushers and con men, we must bring to justice the authors of the piece not its subject.
Colin Taufer
+++

COLIN'S COLUMN
Welcome to my monthly column. I am a career educator, writer and lifelong advocate for human rights. With each article, I hope to shine a light into the dark world of psychiatry to make stronger champions of human rights, to stir into action, to enlighten. As always, I appreciate feedback from readers. I can be reached at Colin@PsychSearch.net.
Psychiatric diagnosis from afar
+++
File a complaint against a psychiatrist – PsychSearch
www.psychsearch.net/complaints