The Burlington Free Press (Burlington, VT)
Vermont psychiatrists disciplined at higher rate
By Stephen Kiernan
May 26, 2002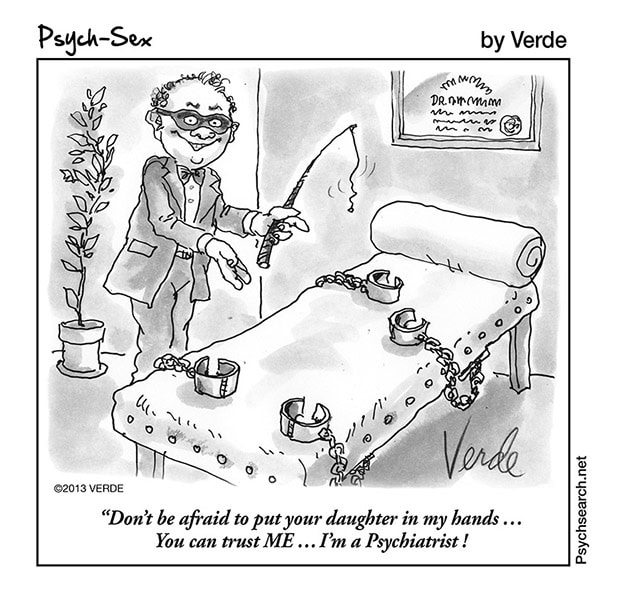 The woman was in a vulnerable state. She turned to a psychiatrist for help.
Instead of receiving therapy, the patient wound up having sex with the doctor.
The experience left her "damaged," said Torin Togut of Vermont Protection and Advocacy. "The clinical relationship and the sexual
relationship cannot co-exist. It is clearly improper."
Physician ethics prohibit it. Worse still, the problem extended beyond one woman. Her experience remains confidential, so later patients
never learned about her psychiatrist's conduct.
The case is not unique. A Burlington Free Press analysis has found that 39 percent of the doctors disciplined by state regulators in the
past five years have been psychiatrists. Fewer than 11 percent of Vermont's doctors practice psychiatry.
Further, nearly all the charges involved doctors' sexual misconduct or abuse of alcohol and drugs. The disciplines rarely
stemmed from improper medical care, state records show.
"This information should be of concern to all groups focused on behavioral health care," declared Ken Libertoff, head of the
Vermont Association for Mental Health. "It is very disturbing."
The problem is exacerbated, health policy experts say, because doctor discipline occurs behind a veil of secrecy. Mental health leaders said they cannot solve a problem if they do not know it exists.
"This is information I was totally unaware of," Libertoff said. "That's an issue in itself."
"I am concerned that these incidents happened," said Dr. Robert Pierattini, interim clinical head of psychiatry at the University of Vermont's College of Medicine. "But I am also concerned that I did not know this situation existed."
A troubling trend
The Burlington Free Press filed seven public record requests over a five-month span seeking information about physicians disciplined by the state Board of Medical Practice since 1997. Unlike many states, Vermont does not make such material readily available. The documents revealed:
— 41 doctors were disciplined.
— Psychiatrists accounted for 16 of those actions.
— That 39 percent share of psychiatrists in Vermont compares with psychiatrists receiving 21.6 percent of doctor discipline
nationally, according to a 1998 article in the Journal of the American Medical Association.
— Physicians in family practice, pediatrics and internal medicine came next — with five, four and four doctors disciplined
respectively.
Gloria Hurd, executive director of the Medical Practice Board, cautioned against making too much of the data: "There seems
to be no empirical evidence that there should be a concern because of the relative proportions."
Dr. Gail Barton, president of the Vermont Psychiatric Association, disagreed.
"This is troubling information," said Barton, co-author of the book "Ethics and Law in Mental Health Administration." "We need to know much more."
One source of mental health leaders' concern was the fact that nearly all of the charges against psychiatrists involved
violations of doctor-patient boundaries such as sexual impropriety, or abuse of drugs and alcohol.
"These are not clinical offenses," said Helen Riehle, president of the Vermont Program for Quality in Health Care. "They are
moral ones."
The American Psychiatric Association's ethical guidelines address sexual misconduct explicitly:
"The psychiatrist shall be ever vigilant about the impact that his/her conduct has upon the boundaries of the doctor-patient
relationship, and thus upon the well-being of the patient. … Sexual activity with a current or former patient is unethical."
Not a new issue
Some degree of sexual misconduct is predictable, UVM's Pierattini said. "The issue of boundaries in psychiatry is something the profession spends a lot of time with."
The study "Physicians Disciplined for Sex-Related Offenses," published in the June 1998 Journal of the American Medical Association, found that 4.1 percent of doctor discipline nationwide between 1989 and 1994 involved sex offenses.
The report singled out psychiatry as a problem area: "Of all physicians in the country, 6.3 percent identify psychiatry as their primary specialty, whereas 27.9 percent of disciplined physicians were psychiatrists, a 4.4-fold over-representation."
Togut said the problem could be worse than people think.
"The numbers themselves may not reveal the extent of what is going on," he said. "Like rape, sex abuse and battery, many crimes are never reported because of shame."
Why is the rate of offense so high, though, relative to other types of medicine? And why is Vermont's problem worse than
the nation's? Health leaders offered several theories:
— The Medical Practice Board's disciplinary standards. Vermont could be a magnet for questionable physicians, Pierattini said, "because it is known to be lenient in its treatment of problem doctors. What's the place least likely to catch me?" Vermont's board ranks 35th most lenient in the nation, according to the Washington, D.C.-based advocacy group Public Citizen.
Doctors are "a very powerful constituency group," Libertoff said. "They have been protected, and self-regulated, beyond any degree that we would now say is acceptable."
— The unique nature of psychiatric care. "Psychiatrists tend to spend more time with patients," said Paul Harrington, executive director of the Vermont Medical Society. "They develop very close relationships." "These are people who are easily exploited," Pierattini said, "which adds to the burden not to exploit them."
— Deficiencies in doctors' education. The rate of psychiatrist discipline, Libertoff said, "raises questions about training. It
raises questions about oversight."
Riehle, of the Program for Quality, encouraged the earliest possible efforts to detect potential problems. "One would think that there was a moral fiber issue here, that could be caught even in the interview process to get into medical school."
Pierattini, who helps train aspiring psychiatrists, said boundary issues surface frequently in medical school.
"It is usually innocent," he said. "A patient invites a student to dinner. We say that's inappropriate."
Other possible causes:
— The state's rural nature. "Somebody who wants to hide," Pierattini said, "to escape scrutiny and peer review, could do it here in psychiatry."
— Patients' conduct. Riehle said some responsibility lies with them. "The clientele are more susceptible. I mean, you're lying down.
"I'm not saying that's any excuse," Riehle added, "but if you're in a mental state in which you're more vulnerable, and you find a person who finally listens to you, you might respond differently than you do to an oncologist or the person who operated on your back."
Libertoff dismissed that idea. "The notion of blaming the patient, the victim, is misguided. Period. The responsibility is clearly
at the feet of the profession and the professional."
Togut, of Vermont Protection and Advocacy, also said patients cannot be held responsible for physician misconduct. "You are exposing yourself in the most intimate way. The doctor's job is to safeguard you."
'I wasn't aware …'
Vermont mental health leaders said combating doctor misconduct is hampered by the fact they did not know that their field accounted for a disproportionate share of disciplinary action.
"I wasn't aware of that," Pierattini said.
"It's news to me," said Libertoff of the Association for Mental Health.
"We don't have any feedback from the medical board," said Dr. Barton, head of the state psychiatrists' group. "They're not sharing it with the profession."
A bill has been passed by the Vermont Senate and House that would reform many aspects of physician regulation: tightening standards for physician misconduct, bringing the Medical Practice Board under state Health Department oversight, increasing the number of non-physicians on the board and making more information available about doctors' records.
Gov. Howard Dean said he supports the bill.
The bill does not, however, require the Medical Practice Board to disclose problems within specialties.
By contrast, another arm of state government already provides that information about other health occupations.
For 19 years the state Office of Professional Regulation has issued an annual tally of complaints against the 39 professions it oversees. The report includes the past five years' disciplinary actions against nurses, psychologists, dentists, opticians, osteopaths, chiropractors, dental hygienists, radiologic technicians, pharmacists — all licensed health providers except doctors.
"That's just not OK," said state Mental Health Commissioner Susan Besio. "There's no reason doctors should be protected."
Possible solutions
Psychiatrists suggested many ways to improve their colleagues' work and protect patients. Making more doctor information public would be a good first step, Pierattini said.
"It is important for people to know what the performance of physicians has been," he said. "They need to be assured that people are competent, ethical and qualified."
"We should demand and require this kind of disclosure of doctor discipline be made annually," Libertoff said. "We need regulators to explain what's going on. We need to look at other states. And we need to call on the professionals themselves to assume some responsibility for the future."
Reducing the number of doctors who practice in isolation might also decrease the rate of problems, Pierattini said. Doctors who are not affiliated with a hospital, or do not belong to state and national psychiatrists' groups, might be at greater risk. "A good psychiatrist relies on colleagues for peer supervision," he said. "In private practice, people are expected to establish that at their own initiative. An unscrupulous practitioner can get away with things."
Pierattini also said Vermont should reconsider its licensing requirements for providing mental health care. "How many of the
doctors in trouble were actually trained as psychiatrists?"
Togut said that regardless of what happens to doctors, empowering patients should be central to any reform of psychiatry. He proposed "making the complaint process easier, less threatening or intimidating, with less fear of retribution."
The physician-authors of the AMA journal study of sex offenses offered a further agenda: "All state medical boards should consider enacting laws, such as that passed in Idaho, that criminalize all sexual contact between any physician and a patient."
The authors also advocated for giving medical board members sensitivity training on handling sex offense issues.
Togut said that among the many possible responses to doctor discipline, removing secrecy was paramount.
"If psychiatrists themselves don't know this information," he said, "what deterrent effect is there?"
Psychiatrists