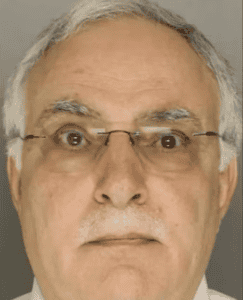 Spiro Kassis
PRESS RELEASE
Montgomery County "Pill Mill" Doctor Sentenced to Four Years in Prison for Illegal Opioid Distribution
Wednesday, February 19, 2020
For Immediate Release
U.S. Attorney's Office, Eastern District of Pennsylvania
PHILADELPHIA – United States Attorney William M. McSwain announced that Dr. Spiro Y. Kassis, 66, of Plymouth Township, PA was sentenced to 48 months' incarceration, two years' supervised release and a $25,000 fine by United States District Judge Gene E. K. Pratter after pleading guilty to 14 counts of distributing controlled substances outside the course of professional practice and without a legitimate medical purpose. Separately, in a related civil case which reached settlement in November 2019, the defendant agreed to pay $1.4 million to resolve similar allegations.
The defendant, who represented himself as a specialist in psychiatry and addiction medicine, operated medical offices in East Norriton Township, PA and Scranton, PA. He used those offices to operate a "prescription pill mill" whereby he sold medically unnecessary prescriptions for opioid drugs such as oxycodone and burprenorphine, as well as other controlled substances. Kassis sold prescriptions for dangerous and addictive drugs for approximately $200 cash. At the East Norriton office, Kassis saw approximately 45 patients per day, who lined up outside a back room where Kassis sat behind a desk. As each patient filed in, Kassis collected $200 cash, counted the money and placed it in a safe — and then issued the requested prescriptions electronically to the patient's pharmacy. Often, the defendant issued dangerous cocktails that included oxycodone, methadone, and buprenorphine, all to the same patient.
"My Office is committed to stopping drug dealing doctors like Kassis," said U.S. Attorney McSwain. "As a physician, he was well aware of the inherently dangerous nature of the drugs he cavalierly handed out. Nevertheless, he took advantage of vulnerable people struggling with addiction, all the while sitting comfortably behind a desk, watching the money pile up."
The case was investigated by the Drug Enforcement Agency; Federal Bureau of Investigation; Health and Human Services – Office of Inspector General; and Montgomery County Detective Bureau's Narcotics Enforcement Team. It is being prosecuted by Assistant United States Attorney M. Beth Leahy, and Special Assistant United States Attorney James Price, who was cross-designated by the Montgomery County District Attorney for this prosecution. The related civil action is being handled by Assistant United States Attorney Anthony Scicchitano.
Contact
UNITED STATES ATTORNEY'S OFFICE
EASTERN DISTRICT OF PENNSYLVANIA
Suite 1250, 615 Chestnut Street
Philadelphia, PA 19106