Mountain News
Doctor Must Have Needed that Valium
December 8, 2016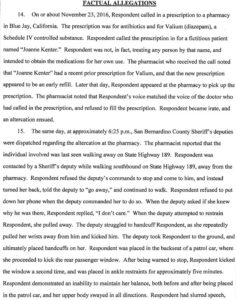 Things were popping at the Rite Aid store in Blue Jay on Nov. 23 when an out-of-town doctor apparently was unable to pop the pills of her choice and she allegedly jumped the counter in the pharmacy.
A caller informed the 9-1-1 dispatcher at 6:22 p.m. that the female subject was being escorted out of the store by security. A second caller said the subject was "trying to bite and hurt the manager" at the location.
The subject was identified as a licensed doctor of medicine, Svetlana Anic, 51, of Los Angeles. Online sources list her as a child and adolescent psychiatrist.
"The licensed doctor phoned in a false prescription to the Rite Aid in Blue Jay," said Gilbert Flores, public information officer for the Twin Peaks sheriff's station. "She ordered a controlled substance—Valium—for her cousin who lives in Germany, according to the suspect, but she was doing it for her own use," Flores explained.
"The suspect resisted officers after she was taken into custody; she was upset and resisted arrest," Flores reported. During the altercation, Anic complained of experiencing shoulder pain. Anic was arrested at 6:30 p.m. and was taken to the Twin Peaks sheriff's station. Later she was taken to the hospital for medical clearance due to her complaint of pain, Flores stated.
The sheriff's report documented that by 10 p.m. Anic was back at the Twin Peaks facility, and she was transported and booked at the West Valley Detention Center in Rancho Cucamonga at 11:32 p.m.
In addition to a charge of commercial burglary under California Penal Code §459, Anic is charged with violating Health and Safety Code §11153(a)(1), which provides that a prescription for a controlled substance is not a legal prescription if it is not issued in the usual course of professional treatment.
Another charge against Anic falls under the Business and Professions Code §4323 (a), which states that every person who falsely makes, alters, forges, utters, publishes, passes, or attempts to pass, as genuine, any prescription for any drugs is guilty of forgery. Upon conviction, punishment may be 16 months or two years or three years in a state prison, or by imprisonment for not more than one year in a county jail.
Additional charges are pending due to Anic's alleged altercation with deputies, the sheriff's report stated.
No longer in custody, Anic was released on bail Thanksgiving Day at 8:20 p.m. No appearance has been scheduled at San Bernardino Superior Court.