PsychSearch.net
Yeah, They Still Do Shock Treatment
By Ken Kramer
May 12, 2015
Note: Saturday, May 16, 2015, is the international day of protest against shock treatment. There will be demonstrations protesting shock treatment in many cities around the world.
A couple of years ago PsychSearch received an encouraging tip that shock treatment was no longer used at Morton Plant hospital in Clearwater, Florida, where we are located. But we were dispirited when we heard from Elizabeth Hardy, Morton Plant's spokesperson. Her e-mail was short: "Electroconvulsive Therapy is offered at Morton Plant Hospital".
With the International Shock Treatment Protest day fast approaching, PsychSearch looked to Morton Plant again and was informed that there is only one psychiatrist who performs shock treatment there. His name is Maykel Luna Concepcion, age 37, a Cuban refugee who was trained in Havana and interned at the University of Kansas, Kansas City. We were told Luna only administers ECT to adults. "Geriatric patients are sent to Dunedin."
PsychSearch e-mailed Luna, told him we're doing a story on shock treatment and asked him several questions. He phoned in and identified himself as "Dr. Luna". Luna was anxious to get off the phone but said he is willing to answer our questions. "First", he said, "I have to ask for permission to talk to media". He said he would get back with us either way.
That was the last we heard from him. Can't blame him. He might have checked out PsychSearch.net!
Tony Buonfiglio, 61, of Margate, Florida, received ECT as a teenager and now is an administrator at the Facebook group Electro Shock Survivors ("ECT") Support Group. Tony told PsychSearch: "It's the perfect crime: the victims are too disabled and intimidated to ever really complain about the crime while the perps go on working, hidden in plain sight, while continuing to feed major media with lies about the procedure's safety and effectiveness."
Luna's application to the Florida Board of Medicine says that he got his MD degree from the Instituto Superior de Ciencias Médicas de la Habana. PsychSearch contacted Dr. Malena Zelada Pérez at the University, but she was unable to verify Luna's degree. She advised us to go through the Cuban embassy in the USA, but to date, they have not responded. Luna says on the application that he traveled to Guatemala in 2004 on a "medical mission" but then left to come to the U.S. as a refugee.
One of the questions sent to Luna was "Do you anticipate making a career out of providing ECT at Morton Plant or do you have career change plans?" was apparently answered by this Facebook post:
Two other questions were posed to Luna:
"Apparently you are the only one who offers ECT at Morton Plant. Are we correct?"
"Are you able to tell us when you started offering ECT at Morton Plant?"
But so far, Luna has failed to answer.
PsychSearch turned to another Clearwater psychiatrist for answers about ECT, George Warren, but he did not respond.
Warren, former president of the Florida Psychiatric Society, was sued in 2003 for failing to advise a patient of alternative medical procedures and for negligent and careless performance of a shock treatment procedure. During this ECT, Warren's patient was not provided a muscle relaxant nor was a hard, rigid bite put in the patient's mouth. The patient had a full seizure, bit down hard and broke off her left front tooth and displaced several teeth. Apparently she swallowed a tooth.
Warren just retired this year.
Arthur Higgins, told us he is a a psychiatry resident under Steven Cuff, a child psychiatrist in Jacksonville, Florida. Higgins was more open to questions. Here are several:
What much does it cost to receive ECT? Let's say the going rate per visit. And how many visits would constitute the entire treatment?
I'm honestly not positive how much it costs. I don't want to give you a guess in case its wrong. I will find out.
What would each visit entail? How long does it take for example? 10 minutes?
ECT can be done inpatient or outpatient. It takes 30min to an hour. The patient comes to the hospital or is brought down to the PACU (post anesthesia care unit) from the inpatient psychiatry unit. They wear a gown and the nurses place an IV. There is an anesthesiologist present as well as the psychiatrist. The anesthesiologist gives short acting anesthesia agents that put the patient asleep for about 5min. The psychiatrist then places two stickers on the persons head. After the patient is unconscious, an electrical current is conducted between the two electrodes on the persons head. This electrical current induces a seizure. The seizure lasts usually between 10 and 60sec and then stops on its own. The anesthesia then wears off and the patient wakes up. They're usually groggy for 5min up to a few hours or even for the rest of the day. a family member picks them up if they're outpatient.
Is there a biological test which shows the person needs ECT?
No.
How much voltage is used?
The electricity isn't really measured in voltage. We talk about the total electrical charge delivered being 110-150 mC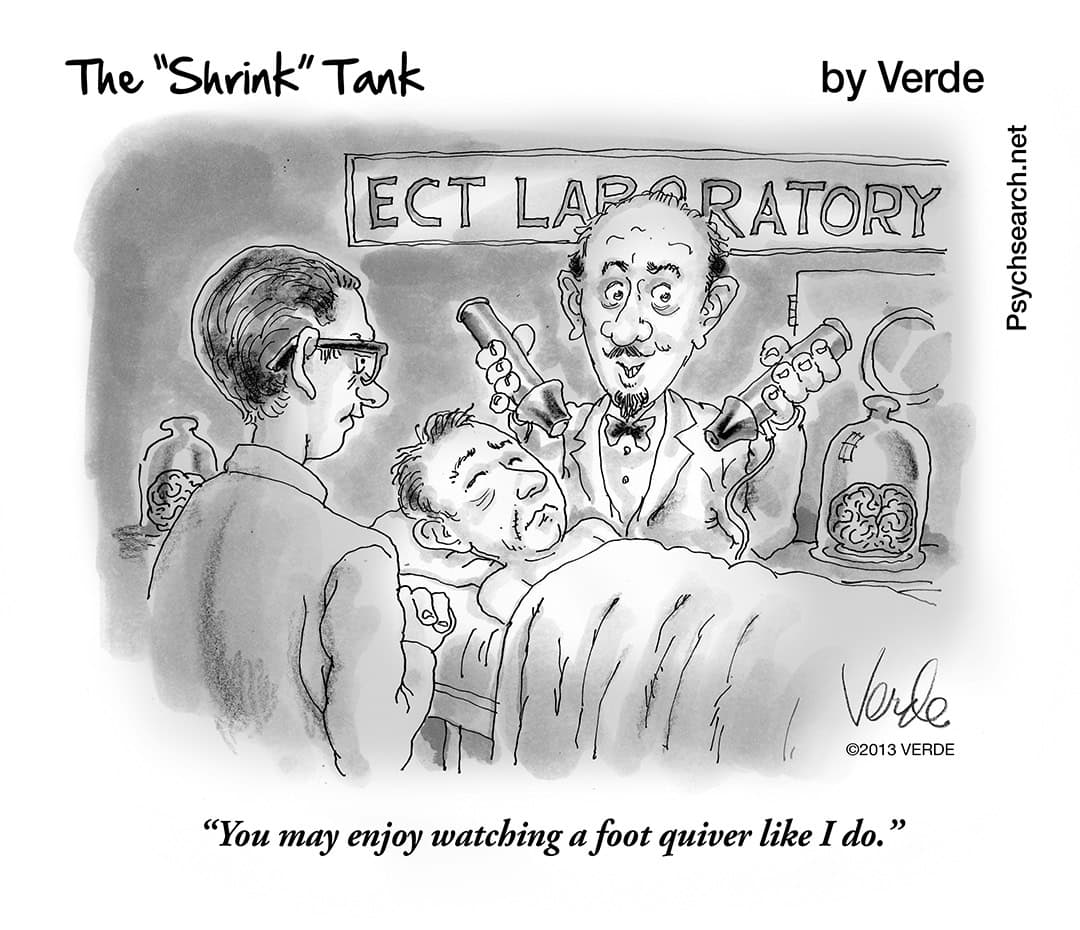 A device is placed around one ankle so that no blood flows through. This stops muscle relaxant drugs from entering that foot and affecting the foot muscles. When shock treatment begins, the psychiatrist monitors seizures by watching for movement in that foot.
What others are saying:
St. Petersburg psychiatrist Stephen Groff tells PsychSearch: I never did any "ECT" or anything like it. Even in residency training I refused to be the one to push the button. I always doubted the "life saving" claims made by some practitioners and felt they just didn't know enough of how to treat psychiatric patients in the first place. It does look barbaric doesn't it Miss Ratchett?
"I now endorse public efforts to ban ECT. The banning of ECT should be supported by all concerned mental health professionals." Peter R. Breggin, Psychiatrist
"I think it is Barbaric!" Curtis Krebs, an obstetrician and gynecologist in Orange Park, Florida e-mailed us.
Jesus Rodriguez De La Torre, an internist from Miami, said he consults on many psychiatric patients. He stated to us: "You can quote me being in favor of ECT". But, "ECT has one negative: irreversible memory loss". He said that he "knows excessive use of ECT can result in a 'swiss cheese' kind of memory, with large unpredictable gaps."
Retired Florida psychologist Louis Franzini, Author of Just Kidding: Using Humor Effectively commented to us: "In my view, ECT is still barbaric, antiquated, and rarely, if ever, necessary. ECT is not the treatment of choice, even in severe depression. The scientific literature supports that. ECT is not an 'evidence based' treatment."
Ted Yaeger, MD wrote to us: "During my medical training I never saw an ECT patient discharged except to the coroner. I will never forget the frightened looks and the writhing and moaning & screaming as they were barely anesthetized back them. Typically the patients left the treatment room unconscious on a stretcher to a holding room for incontinence clean up by nurses. Then back to their room (cell)."
Ken Kramer is an expert public records researcher and lives in Clearwater, Fla. His hobby is collecting documents on psychiatrists which are compiled at PsychSearch.net.