SEXUAL MISCONDUCT
"Sexual misconduct is particularly damaging to the reputation of psychiatry because the damages to patients which result are mental and emotional in nature. If psychiatry loses the confidence of society, its ability to pursue its mission will be damaged."

American Psychiatric Association
Approved by the Board of Trustees
March 1993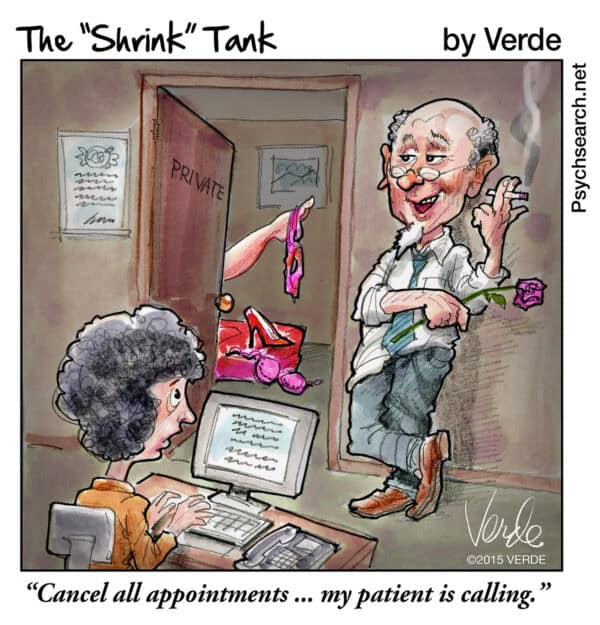 Ottawa Citizen
PSYCHIATRISTS MORE LIKELY TO MISBEHAVE; STUDY; SEXUAL MISCONDUCT A PARTICULAR PROBLEM
December 8, 2012
Psychiatrists are twice as likely as other Canadian doctors to face professional discipline generally and almost four times as apt to be sanctioned for sexual misconduct, concludes a new study that underscores long-held concerns about the specialty.
The Associated Press
PSYCHIATRISTS RARELY TURN IN COLLEAGUES FOR SEXUAL MISCONDUCT
April 7, 1987
Two-thirds of psychiatrists say they have treated patients who were sexually involved with other therapists, but they report colleagues for unethical sexual behavior in less than 10 percent of the cases, according to a national survey.
The Tennessean
PSYCHIATRISTS LOSE SEXUAL MISCONDUCT MALPRACTICE INSURANCE
February 25, 1985
Beginning May 1, the American Psychiatric Association (APA) will no longer cover sexual misconduct, or so-called "undue familiarity," in its malpractice insurance. Millions of dollars have been paid to settle complaints and lawsuits stemming from sexual misconduct, the largest award being $4.66 million, awarded in 1981.
The Seattle Times
PATIENT ABUSE — MANY THERAPISTS SEEM UNWILLING TO POLICE THEIR OWN PROFESSION
April 11, 1993
Newsweek magazine reported that "65 percent of psychiatrists said they had treated patients who had been sexually involved with previous therapists," but only 8 percent reported the incidents to authorities.
One woman, Barbara Noel, wrote a book ("You Must Be Dreaming") about her nightmare of psychiatric sexual abuse. She revealed that the American Psychiatric Association tried to protect her psychiatrist from unfavorable publicity.
Furthermore, Noel's abuser, Jules Masserman, was not just any psychiatrist, but a past president of the American Psychiatric Association and an honorary life president of the World Association for Social Psychiatry.
The Burlington Free Press
VERMONT PSYCHIATRISTS DISCIPLINED AT HIGHER RATE
May 26, 2002
A Burlington Free Press analysis has found that 39 percent of the doctors disciplined by state regulators in the past five years have been psychiatrists. Fewer than 11 percent of Vermont's doctors practice psychiatry.
Further, nearly all the charges involved doctors' sexual misconduct or abuse of alcohol and drugs.